Dear Friends,
It's been just over three years since we lost our beloved Kirby.  With this profound loss, followed by two years of Covid restrictions and isolation, Brad and I have come to realize, even more so than before, how fast time is flying by – days matter and you can't take them back.  Our time spent with each other and family is invaluable.  Therefore, in this our last KirbyGram, we want to express our sincere, heartfelt thanks for the 29 years of kind words and gestures you have shown our family
The past two years I have written of hope, ever-changing yet ever-present, and gratitude.   Hope has given us confidence in our direction, and gratitude our force to transform a devastating diagnosis.    You validated our hope when we needed it most with your unfaltering commitment to our mission of "A Cure for Kirby," which enabled us to feel a depth of gratitude we did not know possible in our darkest times.   You've always been our light, illuminating our path on this journey.
It was your support that made it possible for the Foundation to fund the basic science 29 years ago that allowed Sanfilippo to be included in all the most promising methodologies of treatment as they emerged.  This achievement over the years, with continued advancements, have led to the multiple clinical trials currently underway around the world.  An enduring gift of hope to families today.
Our continued hope for Kirby's legacy of a cure and for the lives of children afflicted today shines brightly because of your commitment to create change.  Our profound gratitude runs deep and will never be forgotten.
Brad and I wish you all an abundance of happy.
Sue and Brad Wilson
Research Update
Below is an update from Dr. Mitchell Drumm, who is leading the team working with Sanfilippo at Case Western's Research Institute for Children's Health.   As Dr. Drumm previously stated when talking about his enthusiasm to add Sanfilippo, "Quite simply, this is why the Research Institute for Children's Health exists.  Our researchers may be scientists, but they are also parents."  We are excited by the potential the Research Institute's work holds for children afflicted today.  As Sue states, "Being a small part of Dr. Drumm and his team's efforts to help children afflicted with Sanfilippo is an honor and privilege.  Dr. Drumm's compassion for children is only matched by the integrity of his work."
Our wish is that his work encourages others within the Sanfilippo community to speak with him, learn more about his methods and goals, and join in our efforts.  We will be posting a video within the next month by Dr. Drumm showing his team at work in the laboratory, so you can see, firsthand, the inspiring work that is being done.
Mitchell Drumm, Ph.D.
Professor, Department of Genetics and Genome Sciences
Vice Chair of Translational Research
Director, The Research Institute for Children's Health
Case Western Reserve University
Cleveland, Ohio
My lab is working on two strategies to deal with mutations in NAGLU, the gene that causes Sanfilippo.  One is to actually repair the mutation in a patient's cells and the other is to add a functional copy of the gene to the cells.  The NAGLU enzyme, once made by the cell, must reach a part of the cell called the lysosome where it does its part to break down heparan sulfate.  Mitch has used the CRISPR/Cas9 system to engineer cells lacking the NAGLU enzyme to model Sanfilppo and is now testing the gene repair and gene supplementation strategies.  So far, the results are promising:  Adding back a normal copy of the gene provides enzyme activity to the cells, opening the door to testing the strategy in mice, looking not only for enzyme activity, but also positive effects on the disease."  Mitch explains that his lab has added to the NAGLU enzyme part of a gene from jellyfish that makes the NAGLU enzyme glow, or fluoresce, so they can actually see it when using a special microscope.  His lab introduces the fluorescent version of NAGLU into Sanfilippo cells, just as they would in a gene therapy protocol, so they can not only see if the gene provides the needed NAGLU enzyme, but also visualize where it goes and how long it lasts.  In the picture, you can see cells grown in a dish (the grey globs that look like a bunch of frog eggs) in which the NAGLU-jellyfish protein is being made, as the ones that successfully took up the NAGLU gene glow orange.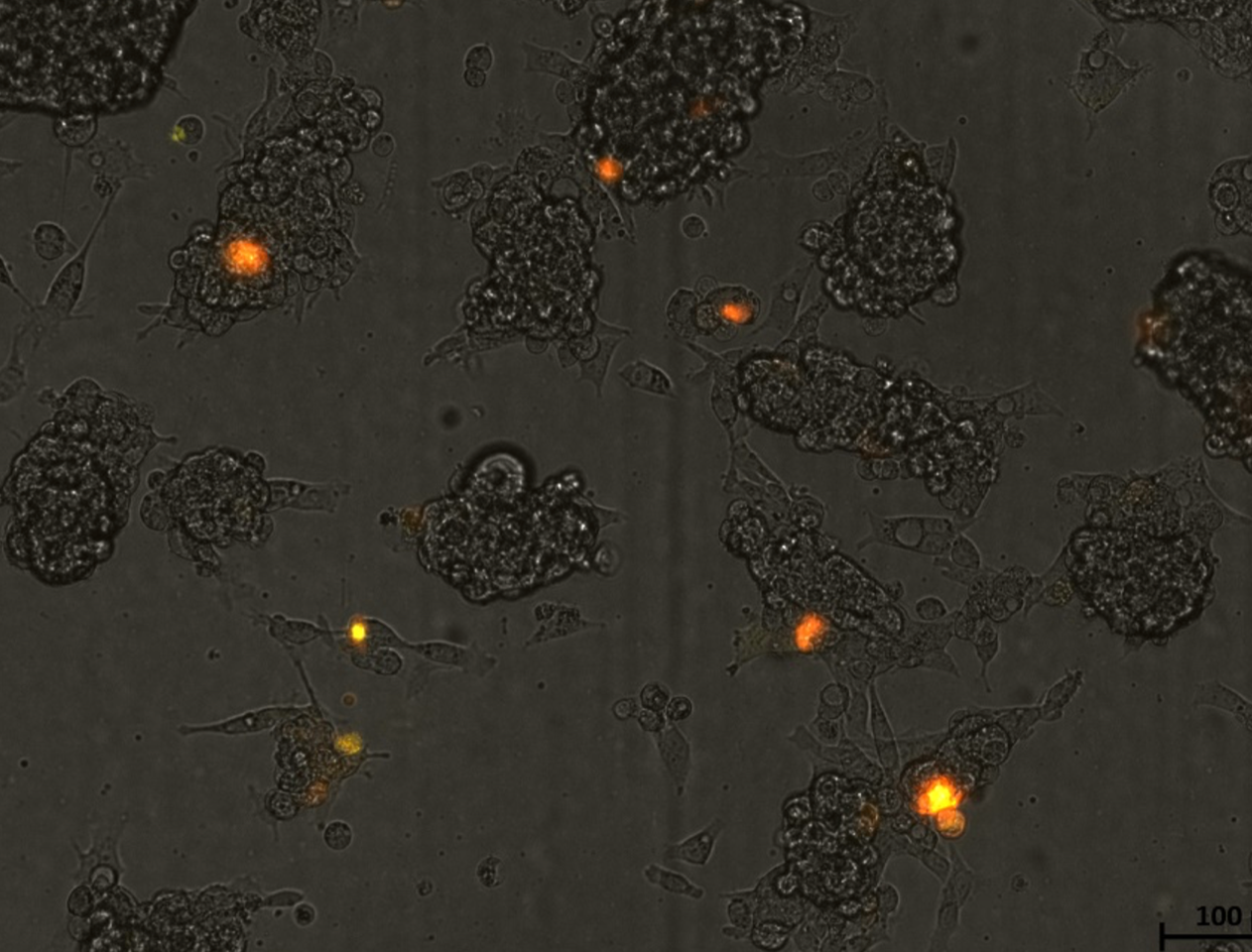 Oh, The Memories We Are So Thankful For…..
Our Sweetheart Dinner Dances that would not have been possible without the expertise and talent of people like:
Gavin Spiers of the Drake Hotel
Marc Kaufman, The Ritz
Jamie Breslin, The Four Seasons, and finally
Michael Lerich and his talented group of musicians who were with us each and every year.
My friends, family and the Kentucky crew that made the silent auction beautiful and set up an annual event in itself that we looked forward to.
Memories of some of the sweethearts who attended will always bring a smile to our face —
A sweetheart who, just maybe, inspired breakdancing as it is today with his talented dance moves while on his back.  This same person, along with some tablemates, also created ballet with the Drake's luggage cart.
The small but determined group that thought a trip to the Lodge for an after-party was a good idea – each and every year.
The dancing duo trying to get their knees to carry them up the Drake's stairs the morning after.
The Fore Kirby golf outings with Kirby cocktails and friends.
The VERY wet 5K4 Kirby.
The Trivia Nights that overflowed with laughter and fun.
Cruisin' for a Cure nights on Lake Michigan.
Deerfield High School students gathering to raise an astounding $52,000 for the Foundation.
LaGrange Highlands Elementary students sharing their talents for Kirby.
The LaGrange Highlands Women's Club and its years of support.
Highlands Presbyterian Church and its members for always being there for us.
Merchants in Kirby's hometown of Western Springs, including Casey's Market, The Fruit Store, Kirschbaum's Bakery, the Uptown Shop, Clever Girl and Vie Restaurant for always being there to contribute in whatever way was needed.
And Maas Auto too!
To the children within Kirby's community who chose to make a stand for Sanfilippo with their purple lemonade stands.  We will never forget the joy we felt that day driving to meet you all, seeing your enthusiasm, with Kirby by our side, sharing some very special lemonade and sweet treats.
And to the gentleman, who never met Kirby, but chose to run the Chicago Marathon, his first, raising awareness and funds for the Foundation.  He finished the race injured by thinking of Kirby and the challenges she braved.  The following year, he ran a 10K with his wife, family and friends.  His words about fundraising and our Foundation will always be remembered.  "Small acorns grow into great oak trees."
With Gratitude
To Dr. Elizabeth Neufeld
The Distinguished Professor Emerita, Biological Chemistry, at UCLA who was also the 1994 National Medal of Science honoree devoted much of her career to investigating Sanfilippo and potential treatments.  Her research and mentorship in the area of lysosomal storage disorders, of which Sanfilippo is one, is the basis for work being done today.  At 94 years old, although retired, she still attends conferences, sharing her brilliance with others in the field.
It was her words, back in 1995, that first inspired Brad and me.  She explained to us the reason rare diseases did not get the attention of other, more prevalent diseases was funding.  "The more of us that work on the disease, the faster a treatment will be found."   Our mission became clear.  Thank you, Dr. Neufeld, for your inspiration and lifetime of work to help children like Kirby.
To our Board Members
The Foundation would not exist without you.  From my first telephone call to let each of you know of Kirby's diagnosis and the path Brad and I had chosen, to the think tank formed, to our first Sweetheart just six months later, to today.  You've never left our sides nor hesitated to do whatever was needed.  With each of you sharing your talents and expertise, you guided us down a path to make the Foundation what it is today – impactful.   And something Brad and I will always be proud to have Kirby's name and now legacy a part of.  Words cannot express what you have meant to us.  You are loved.
And to You
And to everyone reading this, our beloved Kirby's legacy of a cure is within reach because of you and families that have joined our efforts over the years in honor of their children.  Together, we have created a formidable front against a disease we were all told was incurable.  Empowering brilliant research.   Brad and I thank each and every one of you for hearing of "a little four-year-old, blue-eyed bundle of joy with an infectious smile" who needed your help and you answered the call.  She had a disease no one really knew of at the time, but that didn't matter to you.  What mattered was to help, even if it was just one little girl.  Today, rare diseases, like Sanfilippo, have the attention of many within the scientific community and bio tech companies worldwide.  Acorns to oak trees.  Thank you for helping us create this awareness and the hope families have today.  Kirby is smiling.
The comfort and peace we now feel within our hearts is a direct reflection of your support, commitment and compassion.
Our fond, heartfelt thanks.
Whether we hold these children in our arms or in our hearts, hope for their lives and legacies will continue to empower and prevail – always.